R Teenagers

The band which adjusted the song length to slow Internet 1985 when max song length was 1 499 136 byte (1.5 MB is very big, more than a floppy disc could handle). However, most people preferred the size 278 528 byte, i.e. the hit OS because it was designed for the Quick and Dirty OS (Q-DOS later renamed to something else).

At Arbis September 21, 1985. Then: In tour bus in Holland.
The R Teenagers was a quartet, who tried to play fast punk. The audience was most male society outdrops. It was a deep, political band. The party which got their votes was located to the left. It was fun to play fast American hardcore mixed with odd rythms stolen from Yes and Rush. The soal of the band was to have fun. After the b-sound epoch, some records were produced (also with the bad b-sound). They are sold out.
Patrick "Packe" Sjösten: Guitar, voice
Peter "Glada" Larsson: Bass (Session 1)
Ola Fagerberg: Bass, Choir (Session 2)
Peter "Sveden" Swedenhammar: Drums, b-voice
Text/Music: P Swedenhammar, P Sjösten, O Fagerberg, P Larsson
Session 1 1985:
Pusrad (0:23)
Pengar till vad? (0:39)
Granquist (0:57)
Konstig värld (0:45)
Vår dagliga dos (0:28)
Tankar (0:55)
Funktioner (0:39)
Kontrollerad (0:36)
Ställ dig i kö, ko! (1:29)
O.S. (0:17)
S.O.S. (0:42)
K2Z (0:54)
Tomma ord (1:36)
Du har fått ... (1:35)
Jag vill inte ... (1:35)
Lumpen (1:08)
Duvan (1:15)
Barbappappa & ankan Kalle (1:00)


Session 2 1985: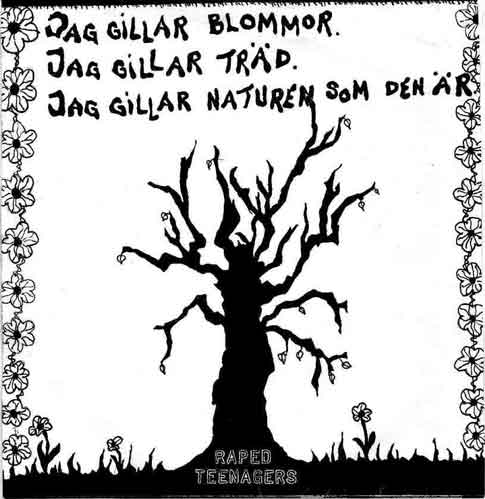 Gubbar (1:12)
Målet (1:28)
Funktioner (0:38)
Kontrollerad (0:41)
Oh, baby (0:53)
Matriell kultur (1:06)
Sveriges utveckling (0:32)
Bedövad (0:55)
Pusrad (0:23)
Pengar till vad? (0:39)
O.S (0:17)
Ställ dig i kö, ko! (1:33)
Granquist (0:55)
Tomma ord (1:07)




Legal
The music is made available with approval by STIM/n©b.